In Dayton, a solid roof is a must have for any home or business owner. With varying weather conditions, including hot and humid summers, cool and snowy winters, and hail and thunderstorms, choosing the right roofing contractor is key. But hiring the best company can be tricky with so many options available. In this blog post, we will cover common mistakes people make when choosing roofers in Dayton, Ohio. 
Avoid These Pitfalls When Hiring a Roofer
Watch out for these errors as you look for a roofing expert for your next project:
Mistake 1: Not Doing Enough Research
Before hiring a roofer, it's important to do some homework. The aim is to find a roofer who knows their stuff and can be trusted. A big mistake is rushing this part, which can lead to picking the wrong person for the job. Check if the roofer's website has clear and helpful information about their services.  You should always ensure they have proof of their skills and experience.
While this may seem like a big task, we have made it easy for you to find the best roofers in Dayton. You can check our blog post, The Top 10 Roofing Companies In Dayton, Ohio, You Need To Call, to find some industry experts and vetted roofing professionals. 
Mistake 2: Skipping Reviews and Testimonials
Reviews and testimonials tell you a lot about a roofer's work and trustworthiness. Ignoring these can lead to hiring a roofer who doesn't do quality work. It's smart to read reviews and talk to past clients to know what to expect. 
At AlphaOne Exteriors, we are proud of our top notch services, and our happy customers say it all in their reviews. You can find these reviews on our website or on sites like Google, Better Business Bureau (BBB), Facebook, and other websites like Yelp, and Angi. 
Mistake 3: Not Checking Credentials
Credentials like licenses and insurance show a roofer's professionalism. Not checking these can lead to legal problems and lost money if something goes wrong during the roofing job. You can check roofers' credentials on sites like eLicense of Ohio. This website can verify a roofer's license, giving you the peace of mind that comes with knowing you are secured. 
AlphaOne Exteriors has all the needed credentials and licenses. Moreover, we are accredited by the BBB with an A+ rating, which showcases our high quality work.
Mistake 4: Picking Based on Price Alone
Having a budget is okay, but choosing a roofer just based on price can lead to low quality work. It's crucial to find a roofer, like AlphaOne Exteriors, who offers fair prices for quality work, so you get good value for your money. 
Moreover, if you wish to get a top notch roofing system without compromising on the quality of materials, we suggest checking out our roof financing options. Many financing companies can help you spread out the cost of a roofing project to make it more affordable.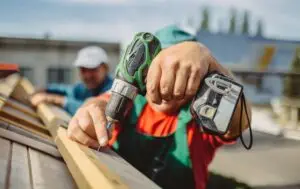 Mistake 5: Not Getting a Written Estimate
A written estimate helps you understand the cost of a roofing job. If you hire a roofer without a paper copy, this may lead to surprise charges later. A good roofer should give you a clear, written estimate showing the costs of materials, labor, and any other charges. 
Our representatives at AlphaOne Exteriors always provide a clear, written estimate so you get to see where and how your money is being spent.
Mistake 6: Ignoring Communication
Clear communication between you and your roofer is important for a successful roofing job. If a contractor doesn't respond well to customer questions or is unclear, it could mean trouble down the line. Make sure your roofer is ready to answer your questions and keep you updated throughout the job. 
Our team at AlphaOne Exteriors promises to keep you in the loop from start to end. We assign project managers to every roofing job to oversee everything and answer any questions or concerns you have. 
Mistake 7: Not Asking About Cleanup
Roofing jobs can be messy. Not talking about cleanup can leave you with a yard full of debris and left over materials once the job is done. Make sure to talk about cleanup plans with your roofer before the job starts to avoid taking on the disposal responsibilities yourself. 
We make sure to clean up well after the job, leaving your place as neat and as we found it.
Mistake 8: Not Understanding the Contract
It's important to understand the terms of any contract before signing. If you don't, this may lead to misunderstandings and legal issues. Take time to read and understand the contract, and ask questions if anything is unclear. 
Mistake 9: Ignoring Local Experience
Hiring a local roofer is a smart move, especially in Dayton, where the weather conditions vary. A local team like AlphaOne Exteriors knows the climate and local building codes well. Ignoring local experience can lead to hiring a roofer who doesn't know the needs of Dayton homeowners. As a local team, we know the best roofing materials and services for the area, making sure your roof stays strong through all types of weather.
Conclusion
Avoiding these mistakes when picking roofers in Dayton, Ohio, saves you time and money. It also ensures that your roofing project is done right the first time. Remember to do your homework, check credentials, read reviews, and talk with your roofer before any work begins. By following these tips, you'll be sure to find a contractor who aligns with your roofing needs.
Choosing a trusted roofer like AlphaOne Exteriors means choosing quality work and clear communication. Don't just take our word for it, check our website to learn more about our roofing services, and contact us for a free, no strings attached estimate today. Your happiness is our goal, and we aim to exceed your expectations in every job we take on. Call us today at (937) 401-3405