Searching for a reliable Kettering roofing company can be a daunting task, but don't worry!  We have compiled a list of the nine most reputable roofing contractors in Kettering that will give you the best value for your money.
Kettering Roofing Companies To Check Out
Note: Before we dive in, it's crucial to note that the companies listed here are not in any particular order. This list serves to inform you about the reputable names in the business. All the information shared here has been gathered from reliable sources available online. Remember, who's "best" will ultimately depend on your specific needs and expectations!
1. AlphaOne Exteriors

📱 Contact Number: (937) 401-3405
📍 Address: Dayton, OH (serving Kettering and the surrounding areas)
AlphaOne Exteriors is a well-liked roofing company in Kettering, OH, with a 4.6 rating on Google from over 150 reviews. The company has been helping out in the area since 2012, providing different roofing services such as repairing, replacing, and installing new roofs. Besides roofing, their skilled and friendly team also does great work with gutters, siding, and painting.
AlphaOne Exteriors is all about doing a good job and making sure their client is happy with their service. They keep you in the loop as they move along with your project from beginning to end and are always ready to answer your questions or concerns.
If you need a trustworthy and seasoned Kettering roofing company, AlphaOne Exteriors is a solid choice.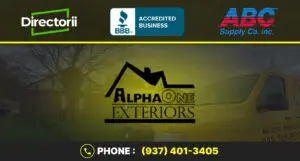 2. Scott Bauer Roofing & Siding
📱 Contact Number: (937) 293-3702
📍 Address: 3044 Wilmington Pike, Dayton, OH 45429
Scott Bauer Roofing & Siding is one of the trusted roofing contractors in Kettering, OH. They've been serving the local region, and the entire Miami Valley since 1999, offering roofing services all year round. When storms hit the area, their roofers are ready to help make sure your home is protected quickly and efficiently. They provide free roofing inspections and estimates.
Scott Bauer Roofing & Siding also specializes in siding and gutters, making them a well-rounded home improvement company in Kettering. With more than 45 years of combined experience in the industry, the team at the company has a wealth of knowledge in roof repair, roof replacement, new roofs, siding replacement, siding repair, gutter replacement, and gutter guards. They aim to provide the best possible service to homeowners in Kettering, with customer satisfaction and quality workmanship being their top priorities.
3. DryTech Exteriors
📱 Contact Number: 937-315-7307
📍 Address: 3036 Far Hills Ave, Kettering, OH 45429
DryTech Exteriors is one of the most reliable roofing companies in Kettering, OH, known for excellent work, quality materials, and fair pricing. They provide a range of services, including roof repairs, replacements, and installations, as well as siding and gutter services. They also have a user-friendly app for easy communication, and offer financing options for their services​​.
4. MasterRoof Contracting
📱 Contact Number: (937) 247-4245
📍 Address: 6361 Shadow Lake Trail, Dayton, OH 45459
Next on our list of Kettering roofing companies is MasterRoof Contracting. They cater to both residential and commercial roofing needs. They boast a skilled team committed to delivering top-notch service and quality work, ensuring customer satisfaction from the first call. They offer various roofing services and have financing plans to help with the costs. Additionally, they have a referral program where you can earn $100 cash for referring new customers. They value good communication and aim to work diligently to complete projects successfully.
5. Vicco Roofing and Restoration
📱 Contact Number: (937) 503-8787
Vicco Roofing and Restoration in Kettering, Ohio, offers various roofing services including emergency roof repair, regular roof inspections, and roof replacement. They provide free, no-obligation quotes and have a team of experienced roofing professionals ready to evaluate your roofing needs in person. They aim to provide competitive and high-quality roofing solutions to both residential and commercial properties in the Kettering area.
6. Rembrandt Roofing & Restoration
📱 Contact Number: (937) 202-4459
📍 Address: 38 N Pioneer Blvd, Springboro, OH 45066
Rembrandt Roofing & Restoration has been offering professional roofing services in Kettering since 1995. They provide a variety of roofing options, like asphalt shingles, architectural shingles, metal, and flat roofs. They are ready to assist if your roof has issues like leaks or missing shingles, offering free roof inspections to determine the best solutions for your needs. They emphasize treating clients like family and aim to provide quality roofing services, ensuring most roof replacements are completed in just one day.
7. Feazel
📱 Contact Number: (984) 213-4682
📍 Address: 1395 Research Park Drive, Beavercreek, Ohio 45432
Feazel has been serving as a top exterior remodeler in Kettering since 1988, offering roof replacements, window installations, siding services, and storm damage restoration. They are recognized for over three decades of quality service, earning an A+ rating from the BBB. Their team is dedicated to providing high-quality, tailored solutions for your home exterior needs, and also offers free, no-obligation estimates for their service.
8. Helping Hands Roofing
📱 Contact Number: (937) 606-3193
📍 Address: 70 Birch Alley, Suite 240, Beavercreek, OH 45440
Helping Hands Roofing in Kettering, OH, offers a variety of services, including residential and commercial roofing, storm damage repair, and assistance with insurance claims. They prioritize customer satisfaction, provide free comprehensive inspections, and ensure proper installation through specialized contractors. Their team is dedicated to providing honest recommendations and quality workmanship backed by industry-leading warranties​.
9. Allegiant Roofing
📱 Contact Number: (937) 907-0009
📍 Address: 5450 Far Hills Ave, Suite 212, Kettering, OH 45429
Allegiant Roofing, serving Kettering and Cincinnati, Ohio, is a professional provider of roofing, siding, and gutter repair and replacement services. They offer a range of roofing services, including installation, repair, maintenance, and emergency repairs. Their team includes individuals with backgrounds in general contracting, real estate, and insurance claims, which allows them to create trusting relationships with clients beyond just sales. They are also recognized as a BBB-accredited and award-winning business, striving to provide exceptional service and workmanship. They also provide commercial roofing services that start with a thorough roof inspection to determine a need for necessary repairs or ongoing maintenance.
Final Thoughts
We hope this blog post was able to provide you with a great starting point for finding the best roofing companies in Kettering. Whether you need a minor repair or a major replacement, these roofing contractors have got you covered! Ready to get your roofing project started? Don't hesitate to contact one of these professional roofing companies in Kettering today,  and get a free quote to kickstart your roofing project.